Eating a balanced diet is sensible advice for anyone, but it is even more important if you're fighting cancer. The body needs vital nutrients and vitamins in order to keep healthy, fight infections and perform at its best. When you are already ill, eating well can help ease the symptoms of your disease, help you recover better from treatments, as well as give you more energy and help maintain a healthy body weight.  However, cancer treatments can make you feel nauseous and leave you with little appetite.
Here are seven recipes you should try that are both nutritious and flavorful, but are light and easy to eat.
1. Chicken and White Bean Soup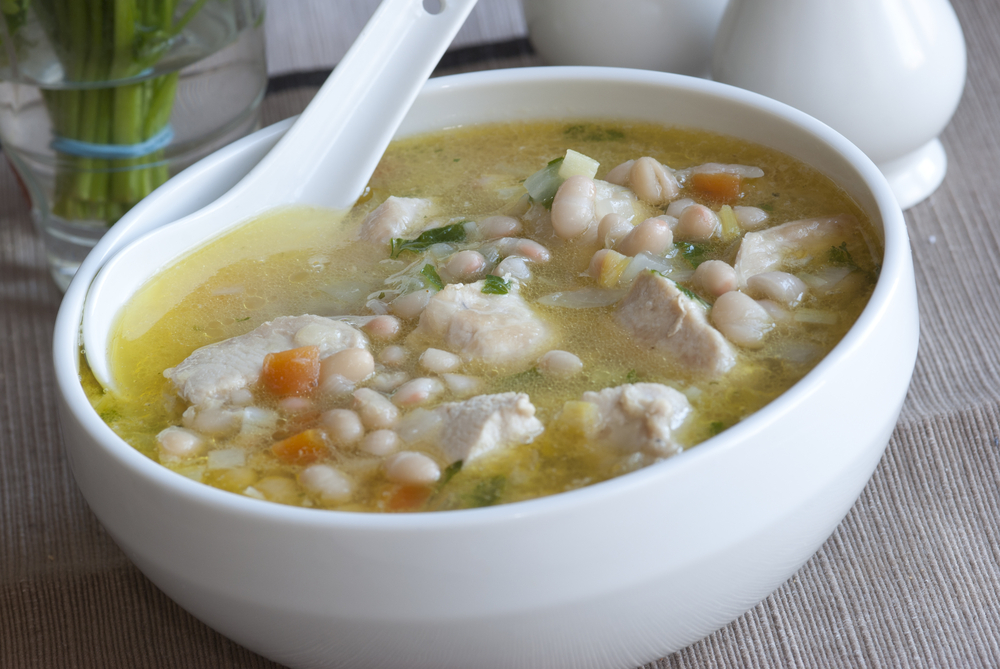 Chicken soup is very soothing, packed with protein and easy to consume. Add in some white beans for extra flavor and even more protein, or substitute the beans for some noodles if you prefer. This soup is particularly easy to make because it uses store-bought rotisserie chicken.
Ingredients (serves 6):
3 cups of rotisserie chicken or chopped cooked chicken breast
6 cups of low sodium chicken broth
2 cups water
15oz can white beans, rinsed
1 Tbsp of oil
2 stalks of celery, chopped
3 carrots, peeled and chopped
1 onion, diced
Salt and pepper to taste
Method:
Shred the meat from the rotisserie chicken, omitting the skin and bones. Saute the onion, celery and carrots with the oil over a low to medium heat until the onions turn translucent (about 10 minutes). Add the broth and chicken and simmer for another 10 minutes. Then add in the chicken and beans and cook for five minutes, season to taste and serve.
Source: American Cancer Society
MORE: Seven benefits of maintaining a nutrient-rich diet during cancer treatment
2. Lemon, Broccoli and Garlic Penne Pasta
Pasta is generally easy to digest and very filling, perfect if you need to build your weight up after treatment. The added nutrients and antioxidants of the lemon, broccoli and garlic will help to boost your immune system, swap out the chicken broth for vegetable broth for a vegetarian version.
Ingredients (serves 4):
½ pound of penne pasta (or any other type of pasta you have)
5 cups of broccoli
¼ cup of olive oil (or oil of your choice)
10 thinly sliced cloves of garlic
½ cup of low sodium chicken or vegetable broth
Zest of one lemon, grated
¼ cup of grated parmesan cheese
salt and pepper to taste
Method:
Cook the pasta as per directions on the packet, but add in the broccoli three minutes before the end of cooking time, once cooked, drain and put to one side. In a skillet heat the oil over a medium heat and saute the garlic slices for one to two minutes until it starts to color. Add the broth and bring to a boil; simmer until the liquid has reduced by about half. Stir regularly so the garlic doesn't stick to the pan. Add the broccoli, pasta and lemon zest and stir through until heated. Season and serve with the parmesan cheese scattered over the top.
Source: American Cancer Society
MORE: Learn more about the common symptoms of lymphoma
3. Chili Con Carne
One-pot dishes are great when you're short on time and energy. This chili can be made as fiery as you want and can be served with rice, tacos or flour tortillas with shredded cheese and guacamole. It also freezes well for easy future dinners.
Ingredients (serves 4):
½ pound of lean ground beef
1 Tbsp of oil
1 onion (diced)
1 clove garlic
1 14oz can chopped tomatoes
½ can (3oz) tomato paste
1 cup mushrooms
1 red bell pepper sliced
½ tsp chili powder
½ tsp ground cumin
½ tsp ground cilantro
1 14oz can of kidney beans, drained
1 chopped chili pepper (if desired)
salt and pepper to taste
Method:
Saute the onions and garlic in a pan over a medium heat until they become translucent. Add the ground beef and stir until browned (about five minutes), then add the spices and chili (if using) and mix thoroughly. Add the tomato paste and canned tomatoes and simmer gently for around 10 to 15 minutes. Add the bell peppers, mushrooms and kidney beans and cook for a further five to 10 minutes. Serve as desired.
Source: Macmillan Cancer Support 
MORE: How to manage the side effects of chemotherapy
4. Winter Veggie Pita Pizza
Yes, you can make a healthy pizza! If you're not on a gluten-free diet then this may be a good choice for a healthy mid-week dinner with salad or a light lunch. As with all pizzas, the toppings are entirely your choice but check out this recipe for inspiration.
Ingredients (serves 4):
4 whole-wheat pita breads
2 tsp extra-virgin olive oil
1 cup butternut squash, cubed
1 cup Brussels sprouts, quartered
½ cup sliced red onion
½ cup part-skim ricotta cheese
2 Tbsp pecans, chopped
1 Tbsp fresh sage, chopped
8 tsp grated Parmesan cheese
Pinch of cinnamon
Method:
Preheat oven to 425ºF. Pour the oil into a medium bowl and toss the butternut squash and Brussels sprouts through the oil, sprinkle with the cinnamon and then place on a baking sheet and bake in the oven for 20 minutes, turning halfway through. Once the vegetables have cooked, spread each of the pita breads with the ricotta cheese and then arrange along with the other ingredients evenly around the pita breads, sprinkling a couple of teaspoons of Parmesan cheese on each one when finished. Bake in the oven, directly on the rack, for five to seven minutes until the cheese has melted and the pita breads are crispy.
Source: American Institute for Cancer Research
MORE: Some famous lymphoma patients you should know about
5. Prawn Risotto
Prawns are a good low-calorie source of protein and omega-3, however, they are high in cholesterol fats so should be avoided if you are watching your cholesterol level. Rice is easy to digest but filling, so a little goes a long way.
Ingredients (serves 4):
1 Tbsp olive oil (or oil of your choice)
2 cups Arborio risotto rice
20 large prawns
1 cup of green onions, chopped
4 cloves garlic, minced
5 cups of low-salt chicken or fish broth (or a mixture of both)
Juice of ½ lemon
1 Tbsp Parmesan cheese
1 Tbsp chives, chopped
Salt and pepper to taste
Method:
Over a medium heat, heat the oil in a large pan and gently saute the green onions and garlic without letting them color. In another pan bring the broth to the boil and set to one side. Add the rice to the vegetables and cook (while stirring) until it becomes translucent, then add a ladleful of the broth and cook until the broth has been absorbed by the rice while continuing to stir the rice at regular intervals. Broil or fry the prawns and then chop into smaller pieces. Continue until all of the broth has been used and the rice is soft and then add the prawns to the risotto. Sprinkle with the lemon juice and Parmesan cheese, and season to taste.
Source: Macmillan Cancer Support
MORE: Learn more about lymphoma diagnosis
6. Thai Chicken and Coconut Soup
This Asian-inspired soup is packed with protein and nutrients as well as the good fats from coconut milk. Serve with either jasmine rice or rice noodles.
Ingredients (serves 4):
1 Tbsp coconut oil or oil or your choice
½ pound of chicken breast, cubed
1 medium onion, chopped
1 clove garlic, minced
1 Tbsp ginger, minced
1 cup carrots, diced
½ tsp of roasted chili paste or Thai curry paste
1 cup shiitake mushrooms, sliced
3 cups low-sodium chicken stock
Juice and zest of one lime
1 Tbsp fish sauce
1 14oz can coconut milk
¼ cup of cilantro, chopped
Method:
In a large pan heat the oil and brown the chicken over a medium heat and set to one side. Next, add the carrots, onions, ginger, garlic, and paste and saute until the vegetables are soft. Pour in the fish sauce, coconut milk and stock and simmer for around five minutes. Serve with rice or noodles and sprinkle with the chopped cilantro.
Source: Dana-Farber.org
MORE: Learn more about lymphoma prognosis
7. Herb Chicken Breasts
These chicken breasts go great with a stir fry, rice or potatoes. Chicken is packed with protein and easy on the stomach so makes for an easy-to-digest meal.
Ingredients (serves 4):
2 chicken breasts (skinless and boneless)
2 tsp sesame oil
½ onion, diced
½ inch fresh ginger, minced
½ tsp lime zest, grated
1 cup cilantro
1 cup spearmint
3 Tbsp extra virgin olive oil
½ tsp salt
pepper
Method:
Make a marinade by placing the spearmint, cilantro, onion, ginger and salt on a chopping board and chop until the herbs become wet and the ingredients turn into a rough paste. Put the paste into a bowl and add the lime zest, sesame oil and some pepper to taste.
Slice the chicken crosswise to make four pieces, then butterfly the breast pieces by pressing your palm down on the top of the chicken and slicing ¾ way through the center of each piece and then fold out. Using a mallet, pound each chicken piece until they are flat and even and around twice the size. Spread each piece with the marinade and then pound a few times more and then flip the chicken over and repeat.
Heat a medium-sized skillet over a medium to high heat and some of the olive oil, fry each chicken piece separately until cooked through and keep warm until they are all finished. Serve with your choice of accompaniment.
Source: American Institute for Cancer Research
MORE: Seven benefits of maintaining a nutrient-rich diet during cancer treatment
Lymphoma News Today is strictly a news and information website about the disease. It does not provide medical advice, diagnosis or treatment. This content is not intended to be a substitute for professional medical advice, diagnosis, or treatment. Always seek the advice of your physician or another qualified health provider with any questions you may have regarding a medical condition. Never disregard professional medical advice or delay in seeking it because of something you have read on this website.
We are sorry that this post was not useful for you!
Let us improve this post!
Tell us how we can improve this post?